Everyone thinks it's not an easy job to create a colorful sapparrow with your waste material. So I want to share some easy step to create your own colorful sapparow. Here are some few easy steps you can create your own handmade colorful supparrow within few minutes.
Requirements :
Woolen thread White, Red, Yellow and Skyblue colour
Small copper wire.
Orange pastel sheet
Two black small buttons
Three cardboard pices sizes 9, 9, 12 cm
Look the images and follow all the step:
Step 1: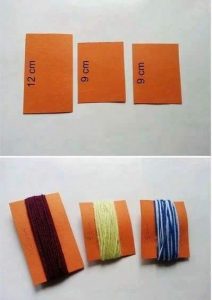 Take a cardboard size 9, 9, 12 cm and roll the tread on the cardboard that's mentioned in the images.
Step2:
Cut your thread according to the cardboard sizes.
Step3:
Marge all thread with each other.
Step4:
Use waste paper to marge all the thread with each other.
Step5:
Use copper wire to makes it's legs.
Step6:
Use two small black button to create sapparrow eyes.
Step 7:
Join all the part of supparrow and finally your sapparrow is ready.
I hope these steps are easy to create a handmade colourful sapparrow. If you have any great idea or suggestion , You can write for us. We will publish it on our blog if it's interesting and also we will add your name and your facebook page or website link.
Image Source : Facebook