Gurugram, May 13 2019. Technology accessory brand Noise will launch a new pair of headphones, the first in a new range of more affordable Bluetooth audio products, called the Tune
Series on the 14th of May, 2019.
The new TuneELITE Bluetooth wireless headphones will be available at just ₹1499, making it
perfect for those looking to upgrade from wired headphones or who've bought a new smartphone
that does not have a headphone jack.
TuneELITE is a neckband headphone which sits comfortably around the neck, avoiding the
discomfort of heavy Bluetooth earbuds. In addition, it features magnetic earbuds that snap together
when not in use, making it both convenient and comfortable for all day use.
Despite its aggressive price, the TuneELITE is made with premium looking and feeling materials
and is a stylish pair neckband that can be worn as a fashion statement.
With an amazing 10 hour battery life, voice assistant support for Siri & Google Assistant, music
controls and a built-in microphone, TuneELITE is amazingly valued at just ₹1499.
Go wireless in 2019 with Noise TuneELITE
Will be available on gonoise.com, amazon.in, flipkart.com, myntra.com and leading marketplaces,
starting 14th May, 2019
Gurugram, May 13 2019. Technology accessory brand Noise will launch a new pair of
About Noise: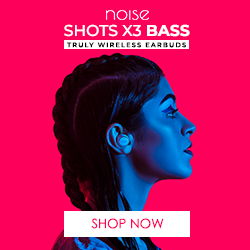 Noise is a technology company that was founded to make everyday tech products available and
accessible to the bold, energetic youth of new India. We live to help the latest technology reach the
people around us, everyday.
The Gurgaon based brand was founded by Amit Khatri & Gaurav Khatri, in 2014. Noise started its
journey with smartphone cases, later diversifying into Smart Wearables, Action Cam- eras,
Portable Speakers, Bluetooth Headphones and Wireless Chargers. Noise currently has a lineup of
14 technology accessories. Noise has been listed as a bestselling brand on Amazon and Flipkart,
for four years in a row.
For more information, please visit:
Website: www.gonoise.com
Instagram: https://www.instagram.com/go_noise/
Facebook: https://www.facebook.com/gonoise/
Twitter: https://twitter.com/gonoise
LinkedIn: https://in.linkedin.com/company/gonoise-com